Continuing with our Sosh adventures and taking advantage of some 50% off promotions, M and I decided to reserve a spot for a pasta tasting menu. We didn't know too much about what to expect, except that this was a pop-up located in some house in the middle of the Mission. When we arrived, it was to great surprise that we were about to dine in the first floor of a purple house with a triceratops guarding the door and very quiet neighbors upstairs.
I decided to use this meal as an opportunity to break in my new Sony a6000. Considering my past photography experiences consisted of cheap point-and-shoots and my old iPhone 4S camera, I was pretty excited to just test things out (I know I still have a lot of learning to do).
Tonight's menu was a 6 course pasta tasting menu with Chef Alexander Hong.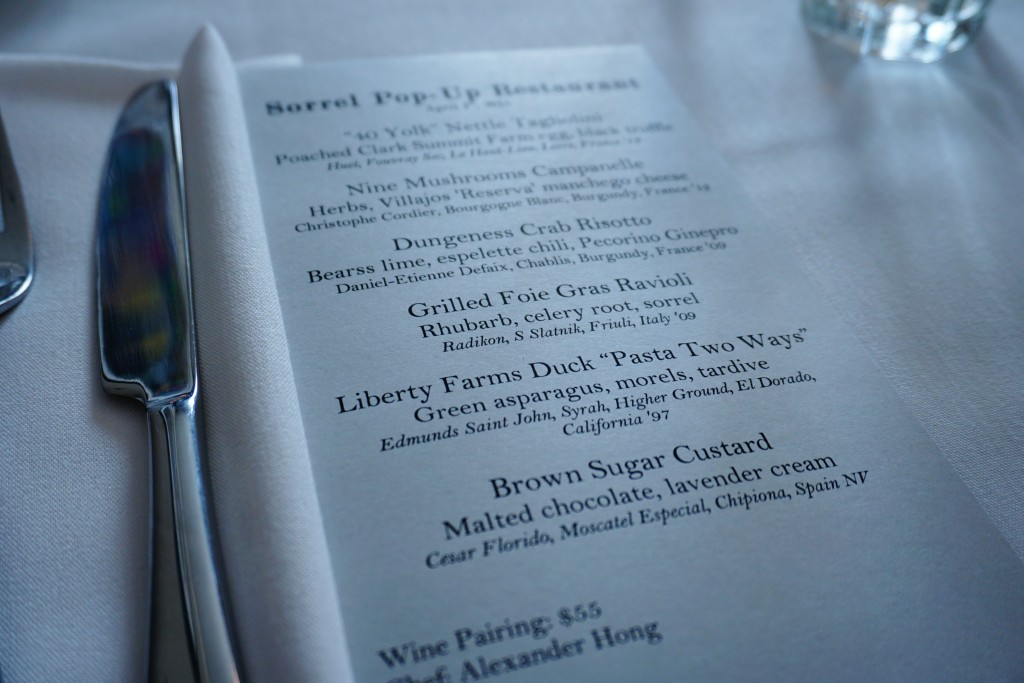 I was pretty excited for the 'locavore' friendly menu and the amount of carbs I was about to devour. But before we dove into the pasta courses, we had a little snack of veggies.
The first course was everything you would expect when a poached egg is present:
This was followed by an equally delicious and wonderfully earthy dish. I wouldn't have said no to another poached egg though…
We continued with our first step into the protein courses.
I think this might be considered cheating a little, since risotto is more grain than pasta. The dish was stellar enough to let that slide though :). The sweetness of the crab paired wonderfully with the risotto, and I would have never guessed that lime would go so well with Pecorino.
Next was a course I was quite excited for, since I'm always curious to see how chefs do with foie gras.
Two thumbs up :). The vegetables balanced out the flavors of the foie gras quite nicely, and I didn't feel any lingering heaviness.
The last pasta course was unfortunately a bit of a disappointment.
Everything on the plate was good…except the pasta. Which was rather unfortunate considering the highlight of these dishes should have been the pasta. M and I weren't too bummed out though since by this point, we were feeling pretty full.
To wrap up the night, we enjoyed a custard nicely built in (of course) a mason jar.
Unfortunately the picture isn't the best, but at least it tasted good :). The bitterness of the chocolate and the light floral notes from the lavender cream worked really well with the custard. All I can say is props for making an acceptable version of whipped cream.
Once we finished licking the jar clean, we let ourselves out and headed home to food coma in bed. We'll definitely be back for another visit to the purple house!