After hearing great things about State Bird Provisions (and how difficult it was to get a reservation), I decided to try my luck with getting into The Progress, the sister restaurant. With some finger crossing and lightning-quick mouse clicking, I was able to secure a reservation through OpenTable for a party of 3 – me and my Cal parents. The Progress was designed to be a family style restaurant, so what better way to enjoy the meal than with my two mommas? (Long story short, one friend is my dance momma, the other my EE momma).
Our initial thoughts upon being seated were 1. this place is adorable and I would totally live here if I could, and 2. how do we only choose 6 courses???
Of course we could have chosen more, or even gone a la carte style. But we were able to narrow down our choices with a little help from Yelp and chose a couple of dishes from each section (small vs large) plus the dessert.
Before our selections arrived, our waitress brought over an assortment of snacks: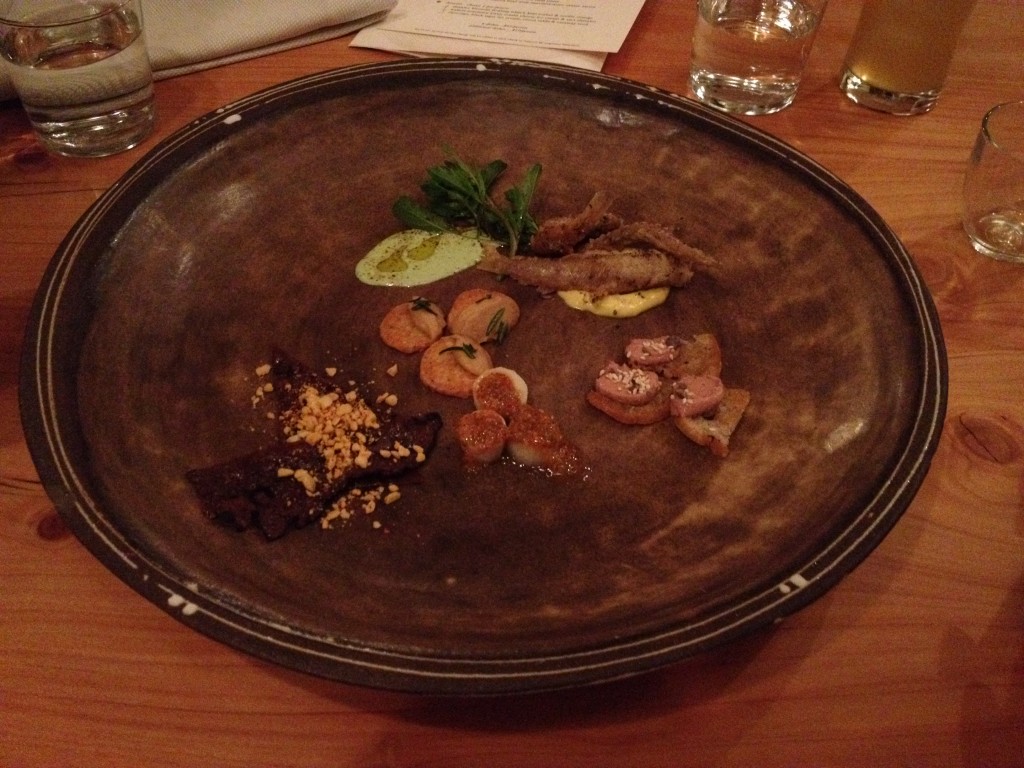 Some were more unique than others, perhaps because I was unimpressed by the 'Asian' influences within the snacks. Overall though, each bite was delicious, and considering I ate a leek without scrunching my nose, I would mark this plate as impressive enough.
Based on your selections, your dishes might not arrive in the order they appear on the menu. Instead, the waitress will reorder courses to make the flow better.
We started with some of the lighter dishes:
Both were delicious, but in different ways. For the snapper, the harmony of the flavors really shown through, while for the cauliflower and pig fries, the highlight was the texture.
Next came what was supposedly one of the best dishes on the menu (according to Yelp reviews):
Sadly, this dish was a bit disappointing. The trout quenelles were really just a fancy way of saying fish balls, the fermented sausage was tough, and the pork broth was a little too sour for our taste. I do have to give this dish props though for making what is basically a softer, savory mochi palatable for me (considering I hate mochi).
The next couple of dishes were also not as exciting as they had looked on the menu:
Both were ok but not stellar. The dumpling skin to filling ratio was a bit off, which was rather unfortunate considering J had been looking forward to the porcini (which he really couldn't taste). Also, given that this dish was basically $30, 3 dumplings felt a little..well, too little. The highlight of the lamb merguez was actually the octopus and the greens. Unfortunately, the crispy squid was more soggy than crispy, and the lamb itself didn't really shine.
The good news is, we did end on a more positive note with a trio of desserts (there were three of us and three options, so we decided to get one of each and share)
Overall, we had a good time at The Progress. While there were some rough patches here and there, the menu started and ended strongly. Given the price point and the number of dishes we truly enjoyed, I would probably pass on coming back unless there was an extremely eye-catching menu in the future. Otherwise, come just once to enjoy the ambiance and a creative twist on Asian family style dining (and perhaps the food),